Wolfram Player
: Your Window to Dynamic Possibilities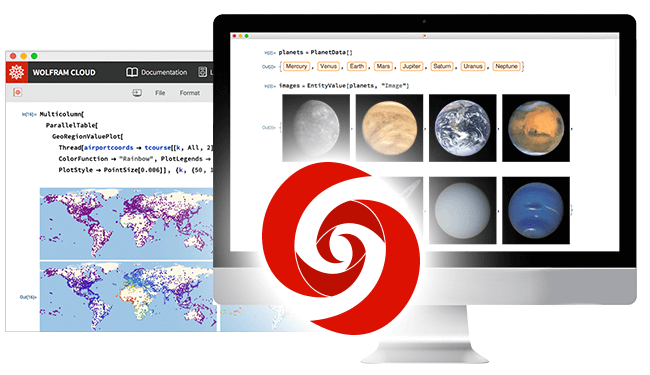 Take Your Wolfram Notebooks to the next level with Wolfram Player.
Are you ready to embark on a journey of dynamic exploration and unparalleled interactivity?
Say hello to Wolfram Player—the gateway to experiencing the full potential of Wolfram technology In an unprecedented manner. From live computational examples to real-time interactive reports, Wolfram Player empowers you to engage with cutting-edge applications and documents, all at your fingertips.
With Wolfram Player, you can effortlessly view and interact with Wolfram Notebooks and CDF files. Dive into a world of real-time computation, where visualizations come alive, and complex concepts are brought to life. Whether you're a student, researcher, teacher, or enthusiast, Wolfram Player is designed for anyone seeking to explore the wonders of interactive computation.
Explore the Power of Wolfram Player Pro
Take your interactive experiences to the next level with Wolfram Player Pro—the ultimate professional platform for dynamic applications. Harnessing the mighty capabilities of the Wolfram Language, Player Pro opens a realm of possibilities for application developers, delivering the potency of Mathematica at a fraction of the cost.
Unrivaled Features of Wolfram Player Pro
Full Wolfram Language Support: Wolfram Player Pro is your key to unlocking almost all the functionalities of the Wolfram Language, providing you with unparalleled access to advanced computational capabilities.
Rapid Application Development: Whether you're working on a personal project or aiming for large-scale deployment, Wolfram Player Pro empowers developers to create high-level, interactive applications with ease.
Flexible Licensing Options: We understand that different projects require tailored solutions. That's why we offer a range of licensing options to meet your unique needs, whether you're serving a small group or a massive audience.
Choose Your Path with Wolfram Player
Small Deployments (up to 25 users):
Player Pro Single Copy: Ideal for individual users and small-scale deployment of interactive solutions.
Player Pro 5-Pack: A package deal for deploying Wolfram-based applications to up to five users.
Player Pro Volume License: For custom-tailored or off-the-shelf production, contact us to explore volume licensing options.
Medium to Large Deployments (over 25 users):
Custom Consulting: Tailored guidance for deploying Wolfram Player at scale.
Volume and Site Plans: Seamless and cost-effective deployment options for larger audiences.
Developer Purchase: Unlock Wolfram Player Pro upfront for your development needs.
Take the Leap into Interactive Computation
Revolutionize the way you interact with data, models, and dynamic content with Wolfram Player and Wolfram Player Pro. Whether you're a seasoned professional or an aspiring enthusiast, the possibilities are boundless. Join the Wolfram community and embark on an interactive journey like no other.
Experience the Future of Computation. Get Wolfram Player Now!