Wolfram Enterprise
Private Cloud
Take your organization's computational capabilities to unprecedented heights. Look no further than Wolfram Enterprise Private Cloud (EPC) — a groundbreaking enterprise solution that puts computation at the heart of your infrastructure, transforming the way you see and deliver computation for your organization.
Computation shouldn't be confined to a select few specialists in your organization. It's time to empower every individual, from CEOs to developers, with seamless access to high-level computation. Wolfram EPC is designed to be the catalyst for this transformation, unlocking the full potential of your organization's data and unleashing the power of the Wolfram technology stack.

Unlike fragmented solutions that require juggling multiple systems for different tasks, Wolfram EPC boasts an all-in-one, unified system powered by the Wolfram Language. This means no more switching losses or compatibility issues. Seamlessly connect all computational fields and functionalities for unparalleled productivity and innovation.
Enterprise Computation
Strategy
With Wolfram EPC, it's time to reevaluate your enterprise computation strategy. Don't limit your organization to basic computation or rely on preordained solutions. Experience the freedom to deploy high-level computation securely and instantaneously. Say goodbye to one-off answers and hello to a cohesive approach to computation.
Big Data,
Big Opportunities
Big data can either be a burden or your organization's biggest asset. Wolfram EPC is your gateway to comprehensive big data analytics and visualization. No more siloed data and limited analytics. Our enterprise computation solution provides the framework for broad-based, imaginative analytics that drive your core business strategies.
Performance
and Scalability
Experience top-tier performance and scalability with Wolfram EPC. Tailored to meet your organization's specific needs, EPC can be hosted on your infrastructure or designated cloud services. Whether you're dealing with complex algorithms, data-intensive tasks, or real-time computations, EPC will not only match but exceed your expectations.
Collaboration
without Boundaries
With Wolfram EPC, collaboration knows no bounds. Share computations, code, data, and reports securely within your organization. Empower your teams to work together, utilizing the collective power of the Wolfram technology stack. Say goodbye to isolated workflows and embrace true collaboration.
Academic and
Nonprofit Discounts
We believe in empowering education and nonprofit sectors. That's why Wolfram EPC offers exclusive academic and nonprofit discounts. Don't miss the opportunity to revolutionize computation within your institution.
Join the Computation
Revolution Today
Ready to embark on the journey of enterprise computation transformation? Choose Wolfram Enterprise Private Cloud, and witness computation everywhere within your organization. Say hello to efficiency, security, and innovation. It's time to unlock the full potential of your data and empower your teams with the ultimate computational solution.
Compare with Other
Wolfram Options
The Wolfram ecosystem is hybridized across local, public cloud, and private cloud solutions—each with differing advantages, depending on your applications, but all with one common set of standards and interoperabilities.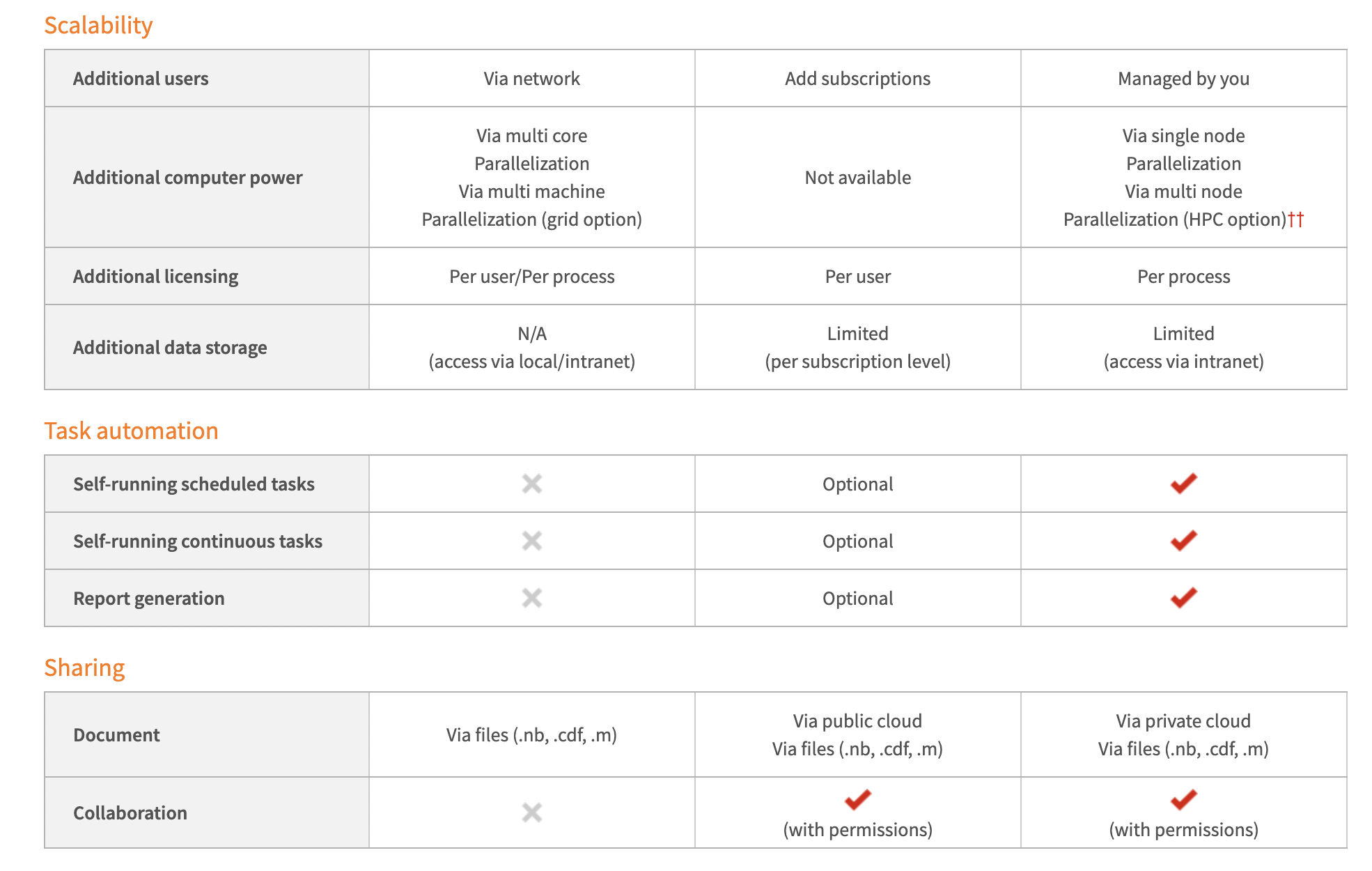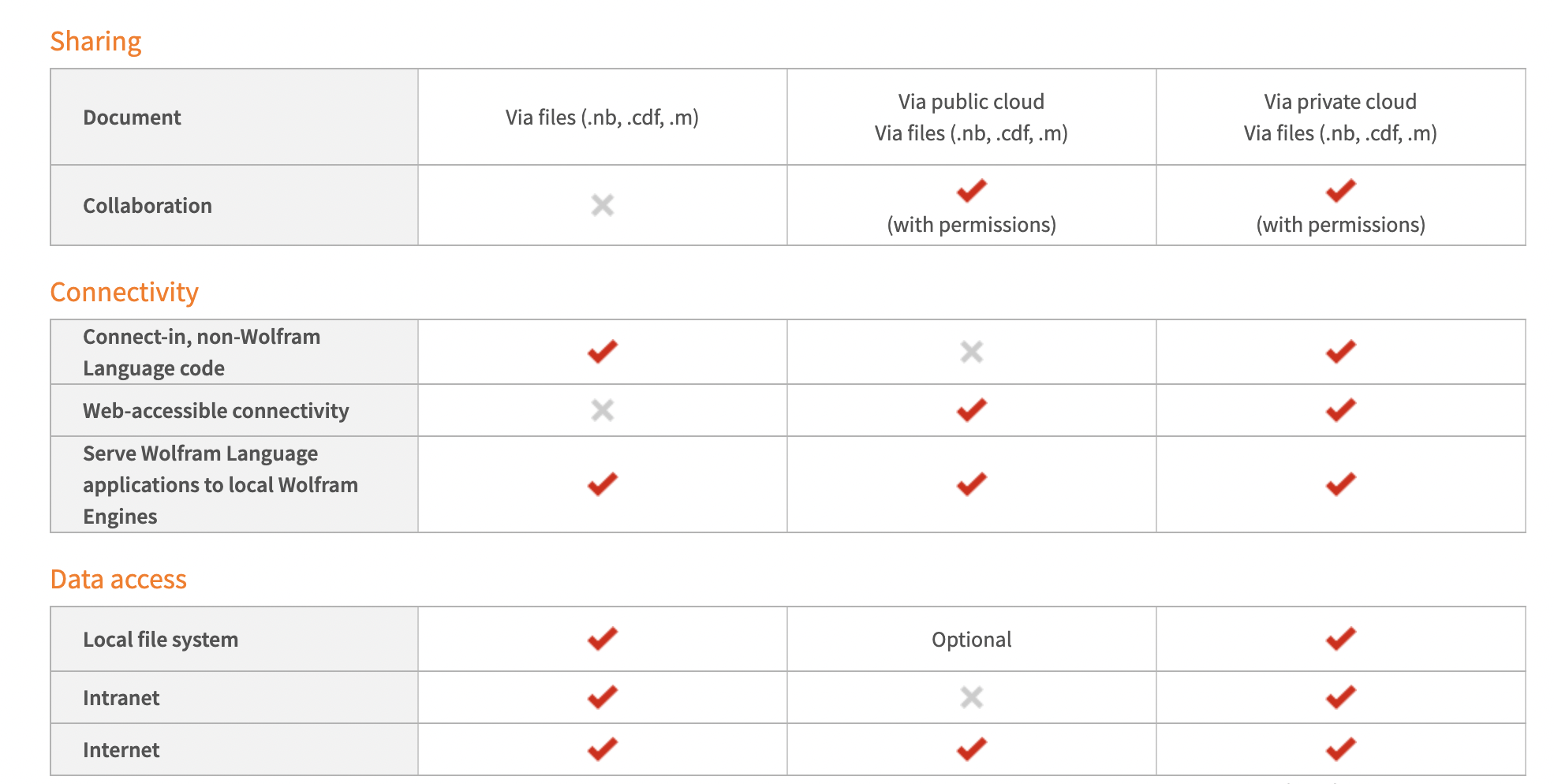 Are you ready to take the leap? Don't miss this chance to revolutionize your organization with Wolfram EPC. Try it now and experience computation like never before.